A Dairy of Structured Behaviours
A Dairy of Structured Behaviours
The intention of the text is to outline the artistic practice as research leading to the completion of the ZKM Gigahertz production prize 2021. Providing a diary of creative process, everyday observations and artistic insights.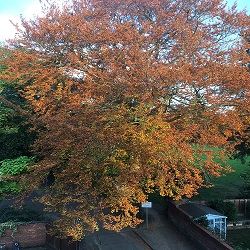 01/09/2021 – Selecting photographic images of hand drawn drawings (fig. 1). The images will provide a spatial framework to diffuse sound material across a loudspeaker array. Well that's the intention anyway, let's see how we get on! Forming a visual interface to control a series of algorithmic sound processes. Manually rotoscoping image to find the sets of vertices. The process is slow and time consuming, the monotony allows time to imagine how the shapes can become active 'zones' of music. At the same time, I'm building an interactive sound patch with max/MSP 4.6  for the sound material. Established a network across two computers using Open Sound Control (OSC) along with Processing. max/MSP 4.6 is a rather outdated version compared with the latest incarnation max 8. The kind people at Cycling 74 authenticated a licence to work in an a familiar environment.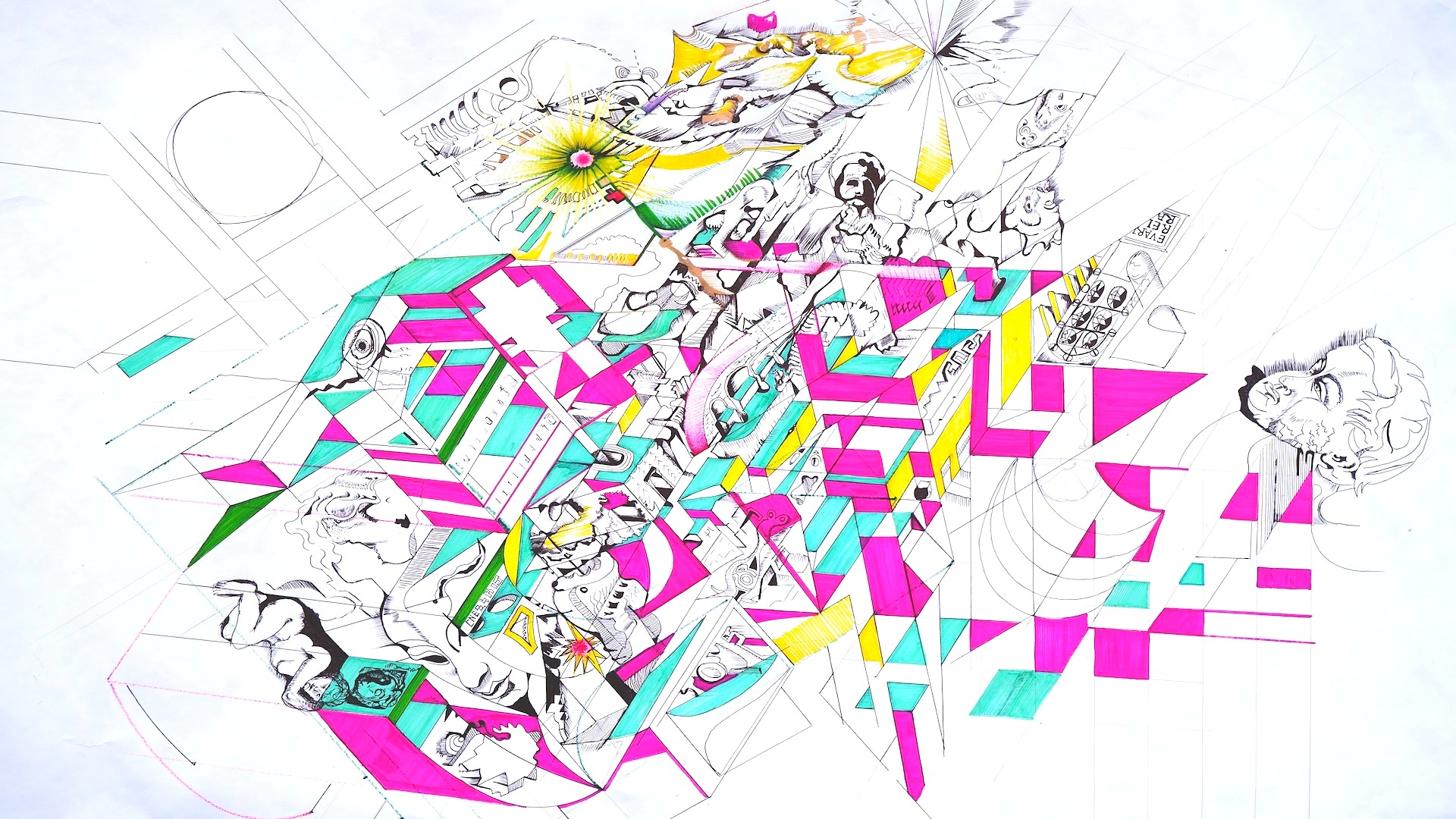 fig1. Hand drawn sketch (2021)
02/09/21 – During the morning edited sounds, generated using a sound algorithm. Continued to plot vectors using the Processing's shape code. Investigating animation techniques using Scalable Vector Graphics (SVG) by accessing XML path elements. Here are links on how to access vertices of an SVG – Shaped vertices and SVG point curve to Processing. Implement into my code svgDisplay.
https://discourse.processing.org/t/svg-to-vertex-code-for-p5js/14942
A method that requires Geomerative lib only work with Processing version 2:  https://github.com/R4ph3rd/generative/tree/master/svg_to_array
03/09/21 – Adding an overlay of Bézier curves. Tracing and marking vectors onto image1 to coordinate the position of coded animations. The identification of each zone will assist in mapping the interface and to control sound processes. Applying cubic Bézier curves. Displayed an SVG (svgDisplay) and parsed data to construct shapes (tabulator data).
04/09/21 – Awoke to find a series of corrupted files – doh!  Always remember to backup your work! Now searching for the previous versions. Not sure what caused the problem. Computer vision of a still image using pixels based on color thresholds would be nice to implement at some point (edge detection). In the afternoon, visited an artist friend Kevin Pocock (@KevinJohnPocock) not seen him since the beginning of lockdown. He showed me around his studio and a new painting Dream Home Heartache in reference to a Roxy Music song.  #dreamhomeheartache 
06/09/2021 – Today, organising the timetable of my piano pupils and attended an inset day with One Education. The schools return this week, I'm looking forward to resume teaching at a local comprehensive school in Manchester.
07/09/2021 – Awoke feeling tense and pressured. At times I'm sometimes overwhelmed by my own thoughts that cloud the creative process. Last night, I watched an inspiring BBC documentary about the painter Maggi Hambling 'Making Love to the Paint'. I really enjoyed listening to how each morning the artist simulates an emotional connection by a process of free drawing to subconsciously connect with memories and feelings.
08/09/2021 – Worked on composing two piano pieces, Donna 2 and Children. Edited a series of field recordings from the countryside of Devon and West Yorkshire. It's funny, listening back these recordings evokes all sorts of memories and feelings of those days. For example, being with my son Luke in the Summer, the patience he showed during the stop/start process of capturing sounds. Today, I noticed the leaves on a nearby tree are all falling to the ground. I presume, it's been tricked by climate change – Doh!  The sound of the leaves falling to the ground onto the hard concrete somehow reflects a stark contrast. The evidence of climate change is all around affecting the life patterns and emerging generations. Began planning dates for the residency at ZKM from 19.10. to 30.11. Completing my tech. rider for ZKM. Incorporating autonomous agents using Craig Reynolds 'steering algorithm' to draw algorithmic patterns. Using the code from Daniel Shiffman's Nature of Code here is a video tutorial. 
Tip: Sketch out on paper the motion of objects in order to determine the procedural function. A way to count the initiation of each loop once activated. 
09/09/21 – Today, teaching music and technology in school. The students are keen to use FL Studio producing hip-hop beats and melodic motifs. We discuss how technology has influenced our approach to music composition, how interface design is based on hardware technologies that have mythical status and a profound impact on music culture.
10/09/21 – As I stare out of my rear window. I spot a man in a fluorescent jacket inspecting the tree that sits at the rear of the house. He touches the bark and carefully examines its leaves. My neighbours and I are concerned about the health of the tree. As Autumn approaches the tree seems diminished and devoid of life, out of sync with its surroundings, reduced from its former glory. Initials of courting couples are carved into its bark which over time have grown out of reach. Captured memories of loved ones extend upwards following the growth of the tree.
Implementing code from Jeffery Thompson's collision detection. The rollover buttons will interact with individual objects in maskGiga on arrays to trigger simple animations.
11/09/21 – Rotation – focus on creating animations onto the surface of img2. rotObj is mapped to a max/MSP object of the name. Now that a sound link has been established, I'm starting to have fun. Once sound is played with the image, my mind comes alive, imaginative thoughts start to appear. As I experiment live coding the platform I feel myself drift away to a place beyond time. When I say drift away I don't mean in an unconscious way, far from it, this is total immersion. Physical tension lifts and I enter a different level of engagement. Early in the day, I walked in the park and even ran a little. It's good to reconnect with my body after sitting at a computer. Met and chatted with passers by and even stroked a dog called 'Bertie' on the Chorlton meadows. Chatted extensively to a local family about piano lessons, engineering ventilation systems and an experimental theatre company in London called Shunt. Heading home now across the park, feeling refreshed after impromptu conversations.
12/09/21 – Started the process of preparing the program note for the piece as requested by ZKM. Visited Macclesfield forest today, recorded some sounds, trickling streams, its a favourite place. Had kissing adventures under a canopy of sticks and twigs. Here the hum of traffic is replaced by the sound of nature, it's refreshing, like drinking a cold glass of water.
13/09/21 – Continued to write the program note. Reading through unused notes from Synergies. Note to myself, work faster to build a patch using frameCount as a timing reference. Naively thinking that speed and efficiency will speed the creative process which always has its own time frame. I hear hi-frequencies and collisions that punctuate the soundscape, the onset of sound leads the way. The soundscape that is local to me carries the drone of motorway traffic, I'm listening to the sound of progress? The hum of speeding engines contours an outline of society, reflecting echoes bounce off hard surfaces, the disorientation is all around. Do we always need to be living in the fast lane?
14/09/21 – Working on sounds in the studio. Trying to invoke meaningful connections with the sonic material. Being in a positive frame of mind assists to create gestures to sculpt the work. At the same time, it's the struggle and frustration of becoming too attached to the work has detrimental effect. Finding processing that release the tension, such as sketching freely, unbounded by conception leads to ways releasing tension.
15/09/21 – Listening to and editing sounds recordings of a piano, electronics and nature. I'm drawn too unintentional noises as they suddenly and unexpectedly appear. Their allure is inspiring often through chaos and chance their appearance is exciting. Visually interacting and communicating across a network, remotely controlling and reshaping of our own media. The output at each experimental stage is recorded and fed back into itself to create a system of recursion.
Contacted Robin Wood at EMS about an inoperative spring reverb in the VCS3. In order to test, patch OSC1 directly into the Reverb listen for signals inside the unit. If you can hear a signal check for resistance on the output of the spring rev unit this should read 880 ohms. If there is no resistance fix by reattaching a hair width wire inside the unit. If there is resistance the amplifier will be at fault. But first I need to find the spring reverb unit. Going to order new caps and pins.
16/09/21 – no text
17/09/21 – no text
18/09/21 – Adapted a long drone sample entitled Ritual. Over layered in distorted guitar filtered through VCS3. Searching and listening to my sample library for inspiration. In the evening, had a lovely time with friends exploring Ryebank fields a green space situated in Chorlton, Manchester. This pastoral space is currently under the threat development for houses. As the city expands and the need housing grows, green spaces are rapidly disappearing. The need to retain green spaces for recreation and relaxation is imperative to the wellbeing of society. Attended La concert produced by local artists and took part in a sound walk exploring the woodland at night.
19/09/21 – During the morning taught Jacob piano, he is learning Bohemian Rhapsody by Queen. In the afternoon attended a Brazilian drumming session with an artist friend Kelly Jayne Jones in Longford Park. Spent the rest of day at Ryebank Fields chatting with environmental activists who are camped on the site to protect the land.
23/09/21 – Today's tasks: Control circle to SVG single code in order present a circular path to rotate shapes over the SVG. https://stackoverflow.com/questions/34842502/processing-how-do-i-make-an-object-move-in-a-circular-path
24/09/21 – Awoke with swollen glands, feeling like a large lump of flesh is trapped in my throat. It lasts for most of the day.  SVG https://developer.mozilla.org/en-US/ getVertexCount only works with Processing 3 and only with path or geometry shapes. Giga html dash array – locate current9.html to create dasharray of img 1 for a webpage.
25/09/21 – Taught piano in the morning. In the evening went to the White Hotel venue in Salford to support my friend Otis and his band. The event was refreshing and organised by Them These records. Great night out catching up with friends old and new. After the concert cycled home along the canal, the city has a different and welcoming energy at night.
26/09/21 – Today felt hungover and lacking in energy. Blown three 5A fuses, binged, ate a full caramel trifle and then stared into space contemplating nothing.
27/09/21 – Planned travel arrangements and dates residency 19th Oct – 30th Nov 2021. Emailed Dominik.
28/09/21 – Set a durational audio piece to run in max (review hidden forest max patch) – update color scheme for img 2. Access 2D arrays to plot lines and 'hotspots' of objects – book trains tickets – program max- email gigaPS from  laptop – worked late. 
29/09/21 – Cycle ride in the morning – booked tickets travel to Germany – text for ZKM – for loop array to Steve 
05/10/21 – CODE REVIEW
pixelRedraw2 – rotateX around centre with radians – image pixel appears but blows out the image no threshold on brightness. Save out frames as png. Set loop up and down threshold on b1 0-255.
loop2dArrayv2 – add timed event to jump to the next position with a timer
TimedArrays_Steve_ emailed to Steve 20/10/21 to ask about looping through arrays and change color of each selected zone and add horizontal and vertical indicator lines.
13/10/21 – Sitting on an old comfy chair protecting a local green space which is under threat of destruction. The drive to build new houses to accommodate a growing population as the city burst at its seams. Reading about Max Bense https://en.m.wikipedia.org/wiki/Max_Bense and sketching on graph paper thinking about developing ideograms. 
22/10/21 – Sat outside immersed in glorious sunshine. I'm here to protect a local green space called Ryebank Fields. Land which is under threat of being sold by MMU to a property developer to make prestigious housing. So, sitting writing notes and planning within a rural setting in the heart of Manchester. The bird sounds are stimulating and refreshing in comparison to the frequent traffic noise that dominates the soundscape of urban sprawl. 
23/10/21 – Awoke early, nervously decide to repack my luggage. Caught a taxi, arrived at Manchester Piccadilly train station in good time. One of the guards helped me with my luggage. Travelling on the train to London. The chatter of fellow passengers, a criss-crossing conversations, excitement fills the air. Reading 'Kafka on the Shore' by Murakami. Finally, arrive in London to catch the Eurostar to Brussels. The train is running late due an electric fault in the channel tunnel. Once onboard there is plenty of room to relax.  At Brussels catch a series of trains to Welkenraedt, Aachen and Koln and finally onto Karlsruhe Hbf. During the journey chatted with a couple and a young Danish man who had also been delayed and faced a long journey home.
24/10/21 – Had a restful sleep, feeling refreshed, a little stiff in my lower back after carrying the synth 'on' and 'off' trains the previous day. Beautiful day the air is bright and the sun is shining. Walked around the lovely landscape of a park called Gunter Klotz Park – Anlage. The colours of Autumn's are vivid, the leaves look amaze against blue skies. Drank a coffee, feeling refreshed, sat on top of a hill enjoying a panoramic view of distant hills. There is a sense of being in the moment, overhearing conversations of families. A man in red trainers climbs to the top of the hill. Later, it's to the swimming pool and sauna. The health suite is amazing, sat outside in hot tubs under blue skies. People walking around in the nude in freshness of an autumnal day, amazing!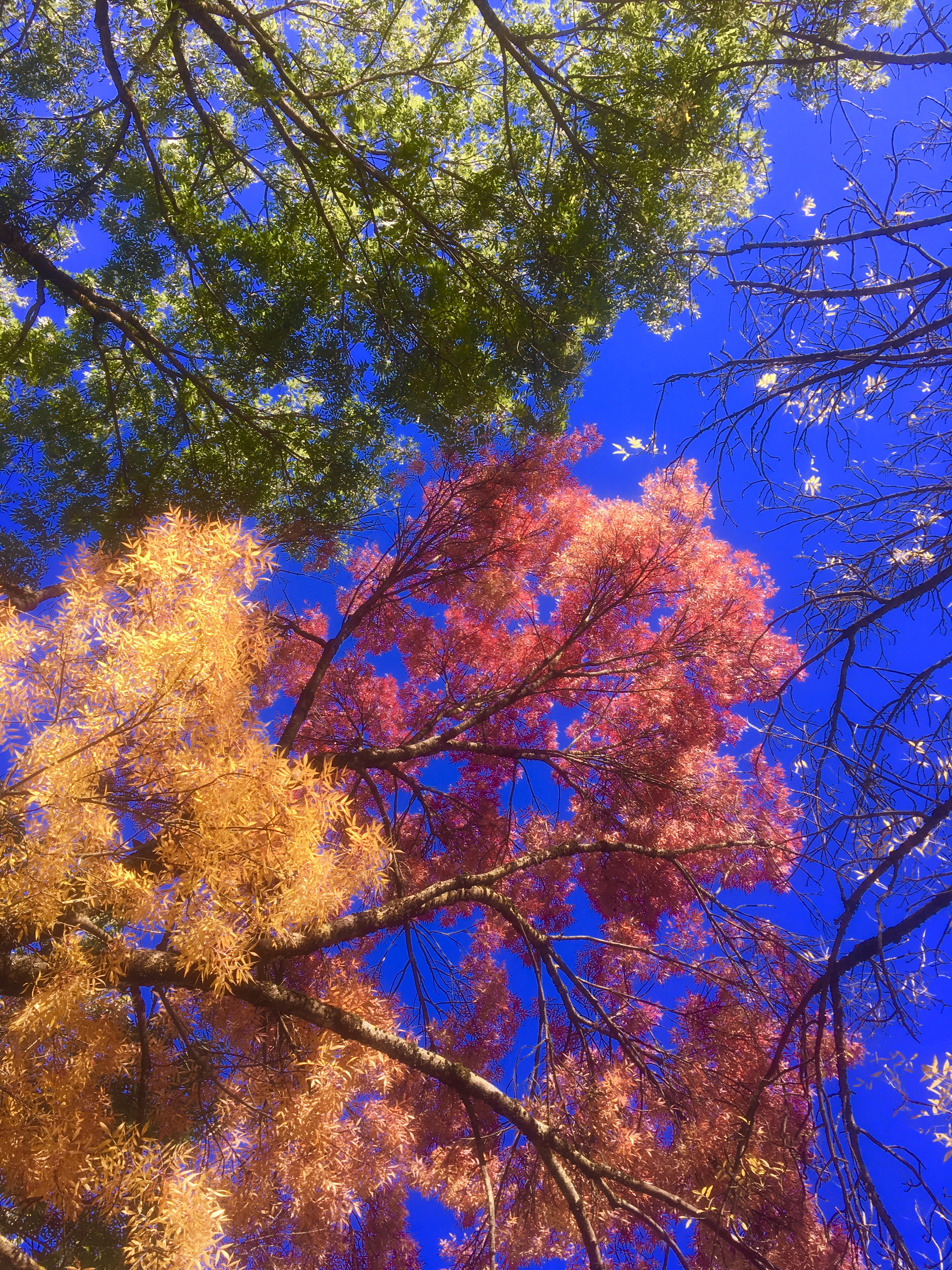 26/10/21 – Slept long into the morning. Awoke, coffee and bagels at Klauprecht cafe. Named after a well known environmentalist who developed ideas for surrounding forests.  Tasks today: begin to develop multi-channel material. Edited sets of sound, focused listening and produced stems of differing durations with the EMS VCS3 Continued coding, drawn out some sketches on graph paper to visually describe the process of mapping space. 
02/11/21 – task to create visual triggers/cues using arrays of numbers. In 'sequential 1'. Using animated ideograms to act as blocks of time, looping occurrences of flickering repetition that produce a perceptual field. Flickering light patterns that clunk and pound a mechanical opera.
05/11/21 – Working on the code main and redshapes aim position the sounds of across eight channels loudspeaker array. Set up a GitHub repository using command line for local host. Following Dan Shiffman's tutorial. Creating a base layer for shape duration 4min making a drone piece of beating oscillators that escalates into a noise plane. Added blueLayer to main configure to send another set of blue vertices.
06/11/21  – Awoke this morning to glorious sunshine sun, drank a nice coffee on my way to the studio. Feel so privileged to have the opportunity to work at ZKM, an amazing place! Found a collection of sounds on my phone dating back to 2017, they bring back nice memories, editing them into the mix.
14/11/21 – Cake and coffee. The previous night recorded all manner of sounds walking home to my accommodation. The process provides a sense of connection to the environment, the aspect of deep listening provides a meditative flow that all sounds coexist in the same space.