Giga Hertz 2021
The intention of the text is to outline my practice as research leading up to the completion of a new work for the ZKM Gigahertz production prize 2021. Demonstrating on a daily basis the creative process leading up to the completion of the final piece. The resource will provide a centralized platform to monitor my own progress, share thoughts, feelings and artistic insights along the creative journey.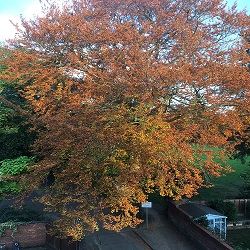 01/09/2021 – Began the day reviewing and selecting photographic images of hand drawn drawings produced over 2021 (fig. 1 and 2)  Kindly photographed by Glen Cutwerk. The images provide a spatial framework and a map to distribute sound material across a loudspeaker array. Well that's the intention. Or, as an interface to control a series of algorithmic processes.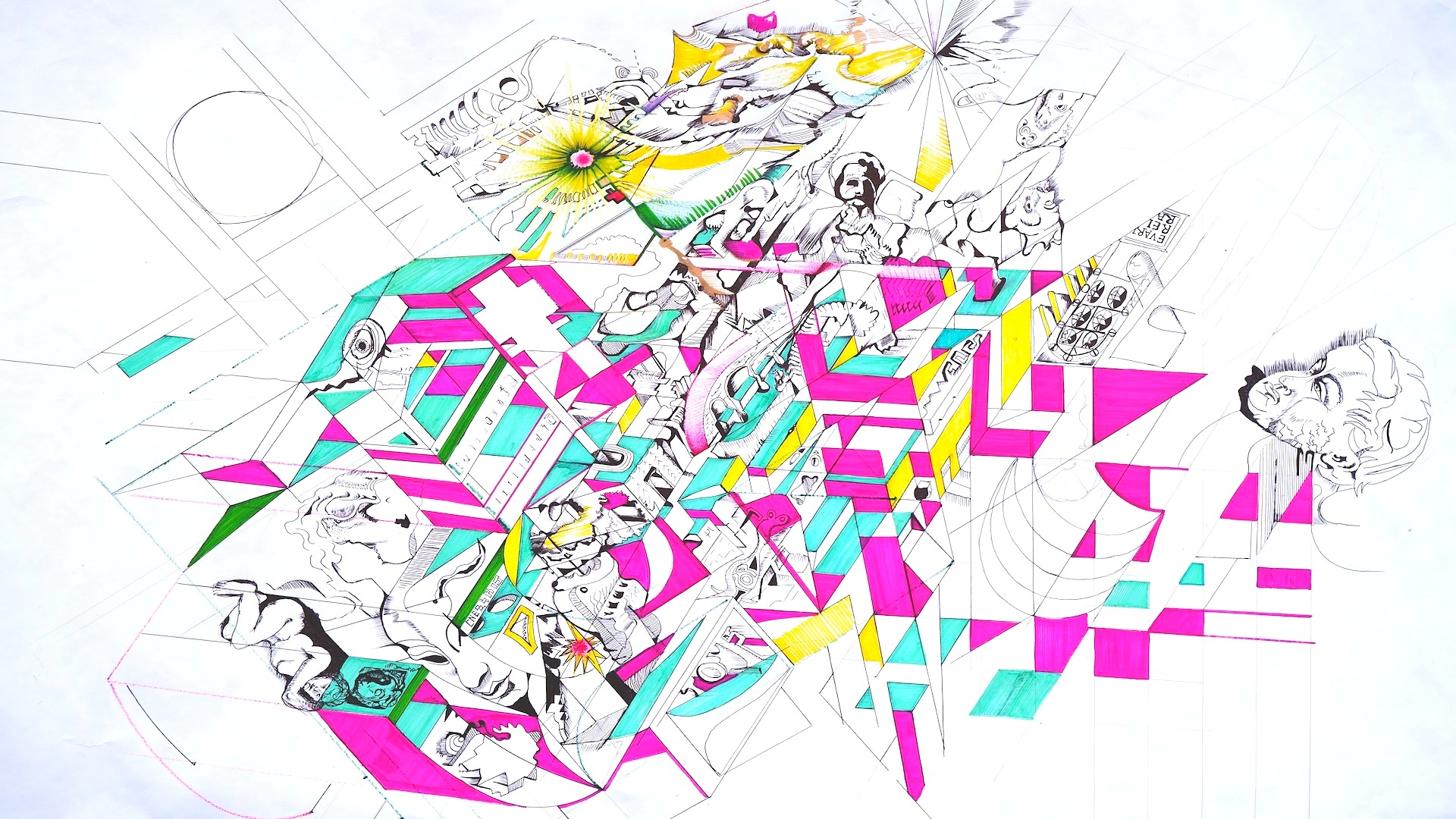 fig1. Hand drawn sketch
Manually retro-scoping and tracing the vertices of the image to define the outline of visual form with software. The process is slow and time consuming, but allows me time to think of additional ideas of how the shapes can become 'zones' to align sound material. At the same time I'm building an interactive sound patch using max/MSP 4.6 that will interact via OSC with Processing. I'm using Max/MSP 4.6, a rather outdated version of Max compared with the latest version. The kind people at Cycling 74 authenticated the licence allowing me to work in an environment that I'm familiar with. I'd like to share my work processes with the community.
02/09/21 – Began the morning editing pre recorded sounds generated using a custom sound algorithm. Planning to incorporate the material to follow the parameters of a piano piece called Donna2. The piece was commissioned by my friend Donna Whitley during the lockdown 2020. The integration of electronics into the piano score combines traditional music performance with algorithmic practice. Continuing to plot vectors into Processing's shape code, doing it manually is very time consuming. Investigating Scalable Vector Graphics (SVG) image conversion and how to access XML path elements (svgDisplay).
03/09/21 – Adding an overlay of Bézier curves using the shape code in Processing. Tracing and marking vectors over image1 to coordinate the position of animations. The identification of each zone will assist in mapping an interface to control sound processes. Applying and exploring Cubic Bézier curves. Setting rotation X to rotate shapes around the centre. Managed to display an SVG (svgDisplay) and learned how to parse the data to construct shapes (tabulator data).
04/09/21 – Awoke this morning to find I have a series of corrupt files – Doh! Always remember to backup your work. Tracing back to resurrect the previous files. Not so sure what caused the corruption, probably a hot plugged a usb stick without waiting for system permission. Computer vision on a still image using pixels based on color thresholds would be nice to implement at some point. Visited an artist friend Kevin Pocock (@KevinJohnPocock) havent seen him since the beginning of lockdown.
Photo of Kevin's Bluepool studio. In the background a new painting Dream Home Heartache. The title is in reference to a Roxy Music song #dreamhomeheartache.
06/09/2021 – Today I organised my timetable for my piano pupils and attended an inset day with One Education. The schools return this week, I'm looking forward to resume teaching at a local comprehensive school in Manchester.
07/09/2021 – Awoke feeling tense and pressured. At times I'm sometimes overwhelmed by my own thoughts that cloud the creative process. Last night, I watched an inspiring BBC documentary about the painter Maggi Hambling 'Making Love to the Paint'. I really enjoyed listening to how each morning the artist simulates an emotional connection by a process of free drawing to subconsciously connect with her memories and feelings.
08/09/2021 – Worked on two piano pieces Donna 2 and Children. Edited a series of recent field recordings made in the countryside of Devon and West Yorkshire. It's funny how listening back to recordings evokes memories and feelings on those particular days. Being with my son Luke in Devon the patience he showed during the stop process of capturing sounds. Today, I noticed the leaves on a nearby tree are falling to the ground. I presume it's been tricked by climate change – Doh!  The sound of a multitude of leaves falling to the ground onto different surfaces tickles the senses. The evidence of the effects of climate change are all around affecting the life patterns of emerging generations. 
Began to plan dates for my residency at ZKM which runs from 19.10. to 30.11. School Half term 22/10 – 2/11. Email Gøtz about accommodation – Completing tech. Rider for ZKM. maskGiga path following from the nature of code create an agent to follow a path looked at example code