Lamaload (2016)
Duration: 10'59
Format: 8 Channel Fixed Media
Lamaload is an acousmatic composition that addresses the acoustic ecology of a rural setting. The presence of the Lamaload dam in the Peak District National Park UK offers the listener a unique sonic experience. Its concave structure and geographical location captures, resonates and reflects the sounds of the surrounding area. This causes a divergence of the ecological infrastructure to reveal a constellation of audible narratives. The accidental discovery of the dam's unique acoustic phenomena inspired the creation of the composition. The sound material consists of natural and found sounds recorded at different locations around the dam. A B-format ambisonic recording technique was applied in order to retain a sense of the soundfield. The ambisonic recordings were decoded at the EMS studio in Stockholm (SE) into eight discrete channels conveying a spatial experience that physically and metaphorically relates to the specific environment. Sound carries information about space, place and location; these parameters form a sound-image elucidating the relation between subject and object.  When one of the parameters is displaced, we are acquainted with the experience of space. Lamaload continuously moves between many spatial transitions that occur in the sonic content eluding to an imaginary landscape. Lamaload was composed during a composer-in-residency program at the NOVARS research center the university of Manchester 2015/16.
Premiered at MANTIS festival 2016 at the University of Manchester, UK.
What is Acoustic Ecology?
Acoustic Ecology investigates soundscapes as complex sounding systems that change in space and time, and shape our understanding of the surrounding world. Soundscapes present analytical challenges relating to perception, spatio-temporal dynamics, effects of anthropogenic sounds on ecosystems, changing acoustic environments, acoustic biodiversity and unwanted sounds. New possibilities for archiving soundscape recordings or manipulating them have emerged during the last few decades, which raised the potential for composing with associative material.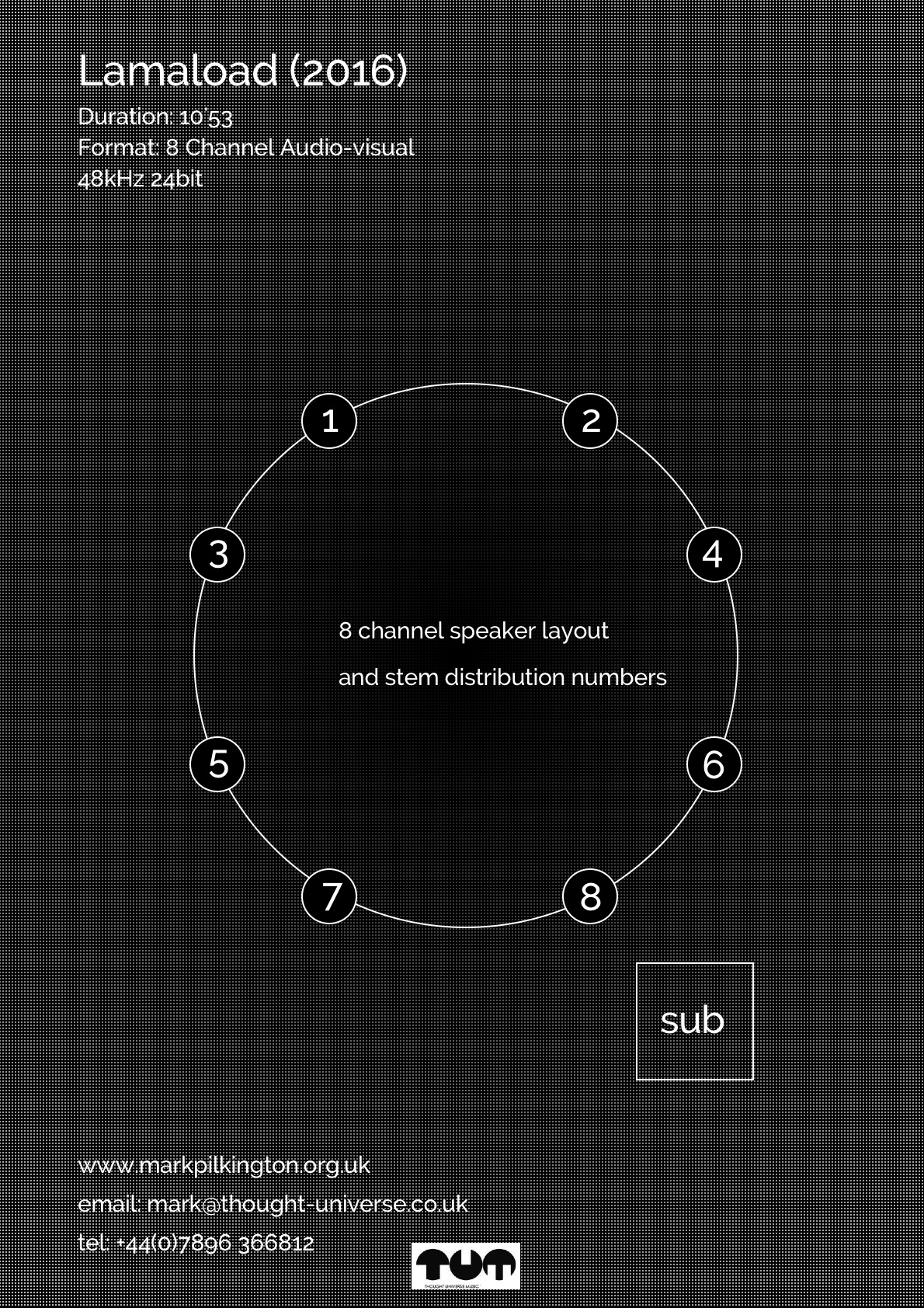 —————————————————————————————————————————————————–
Lamaload A/V (2017)
Duration: 10'59
Format: 8 channel Audio-visual
Lamaload A/V is an audio-visual composition that addresses the ecology of a rural setting. The presence of the Lamaload dam in the Peak District National Park, UK offers an audio-visual experience. Its unique architectural form provides an acoustic screen that magnifies and reflects the sounds of the surrounding area. In Lamaload A/V (2017) photographic and graphic images of the dam and surrounding area are directly animated by natural and human-made sounds. Achieved by using a custom-built program that analyses eight channels of an acousmatic composition visualized across eight corresponding screens. The result is a reconstruction of a space technologically displaced using sound and light.
The visuals were programmed using Processing.
Composed at the NOVARS research centre the University of Manchester whilst composer-in-residency 2016/17.
Premiered at Balance/Un-Balance – A Sense of Place, August 21 – 23 2017, i-Dat, Plymouth University, UK.
Screened:
Liquidscapes conference – June 20-22 2018 at Dartington Hall, Totnes, Devon.
A video excerpt of lamaload a/v (2017).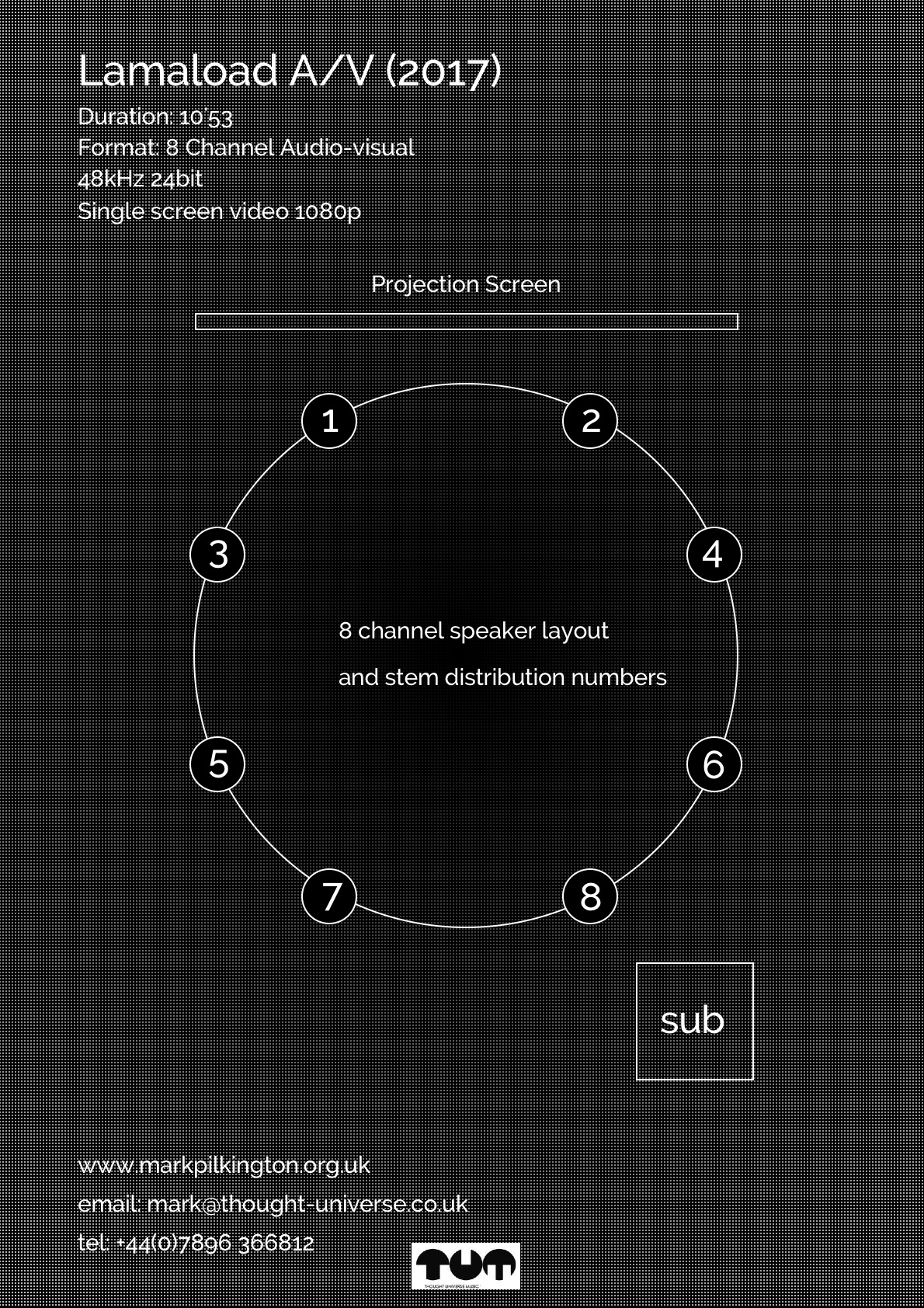 Images taken on-site at the Lamaload Dam, Macclesfield, Cheshire, UK.